4x Hikvision DS-2CE56H0T-IT3ZE 5MP Motorised Varifocal Turret Camera & 4ch 5MP DVR PoC CCTV Kit
Product Options
379.90
4x Hikvision DS-2CE56H0T-IT3ZE 5MP Motorised Varifocal Turret Camera & 4ch 5MP DVR PoC CCTV Kit
4x Hikvision DS-2CE56H0T-IT3ZE 5MP Motorised Varifocal Turret Camera & 4ch 5MP DVR PoC CCTV Kit
Cables
Hard Drive Capacity
Monitor
Description
Specification
Package Includes
Reviews
Related Products
The Hikvision DS-2CE56H0T-IT3ZE is the latest 5 Megapixel PoC HDTVI dome camera with a motorised varifocal ens, outputing an amazing 2592(H)*1944(V) resolution and Enhanced (EXIR) IR of upto 40m provides exceptional footage, even in pitch black conditions.
Hikvision, the world's leading supplier of innovative video surveillance products and solutions is further advancing surveillance camera technology by introducing PoC Power over Coaxial to its TVI cameras and DVRs.

This makes installing the cameras a lot simpler which is great news for installers. Power over Coaxial (PoC) basically means that power for the camera is supplied by the DVR via coaxial video cable (RG59 or similar), this removes the requirement for separate cables and power supplies which would otherwise be needed to power your cameras. For installers this means a much more time and cost efficient installation.


PoC can be used on cable runs up to 200 metres and is available in 4,8 and 16 channel DVRs (models ending /P), a full complement of TVI PoC cameras are also available (models ending E) which together offer a cost effective and time saving solution to your TVI installations.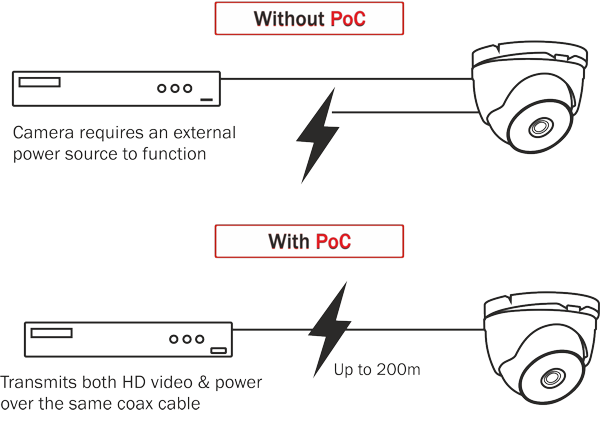 The system includes the very latest DVR, allowing easy access to the internet through mobile phones, tablets or PC's with the free app provided and comes, complete with 10m cable and power adapters.
All systems come with 3 years warranty as standard
1 x Hikvison 4CH DS-7204HUHI-K1/P HD-TVI 5MP DVR
4 x DS-2CE56H0T-IT3ZE
4 x 10M BNC Cable
1 x DVR Setup CD
1 x USB Mouse
1 x 12V 2Amp Adapter for DVR